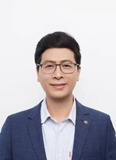 Prof. Xiangjian (Sean) He
University of Nottingham Ningbo,
China
Biography: Professor Xiangjian (Sean) He received his PhD in Computer Science from the University of Technology Sydney in 1999. He is currently the Deputy Head of Computer Science School and the Director of Computer Vision and Intelligent Perception Laboratory at the University of Nottingham Ningbo China (UNNC).
He is in list of the 'World Top 2% Scientists' reported by Stanford University in 2022.

He was the Professor of Computer Science and the Leader of Computer Vision and Pattern Recognition Laboratory at the Global Big Data Technologies Centre (GBDTC) at the University of Technology Sydney (UTS) from 2011-2022. He was an IEEE Signal Processing Society Student Committee member. He was involved in a team receiving a UTS Chancellor's Award for Research Excellence through Collaboration in 2018. He has been awarded 'Internationally Registered Technology Specialist' by International Technology Institute (ITI). He led the UTS and Hong Kong Polytechnic University (PolyU) joint research project teams winning the 1st Runner-Up prize for the 2017 VIP Cup, and the champion for the 2019 VIP Cup, awarded by IEEE Signal Processing Society. In 2021, the team, PolyUTS, led by Prof Lam of PolyU and co-led by Prof He of UTS again won the 1st Runner-Up award for the 2021 VIP Cup.

He has been carrying out research mainly in the areas of computer vision, data analytics and machine learning in the previous years. He has recently been leading his research teams for deep-learning-based research for human behavious recognition, human counting and density estimation, tiny object detection, biomedical applications, saliency detection, natural language processing, cybersecurity, face and face expression recognition, road sign detection, license plate recognition, etc. He has played various chair roles in many international conferences such as ACM MM, MMM, ICDAR, IEEE BigDataSE, IEEE BigDataService, IEEE TrustCom, IEEE CIT, IEEE AVSS, IEEE ICPR and IEEE ICARCV.
Speech Title: Big Data, Machine Learning and Computer Vision
Abstract: Big data are in all science and engineering domains. Analysis of them requires novel learning techniques to address the various challenges. This talk will briefly introduce the basic concepts of machine learning and give a brief survey of the research on machine learning for big data processing. Some promising learning methods in recent studies will be highlighted. Then, the challenges and possible solutions of machine learning for big data will be presented. Following that, the applications in computer vision, image and signal processing, Internet of Things, etc. will be investigated and various deep learning network models will be demonstrated for various applications such as crowd counting, image segmentation, traffic prediction, object tracking, etc.